10 unique ideas to inspire your reno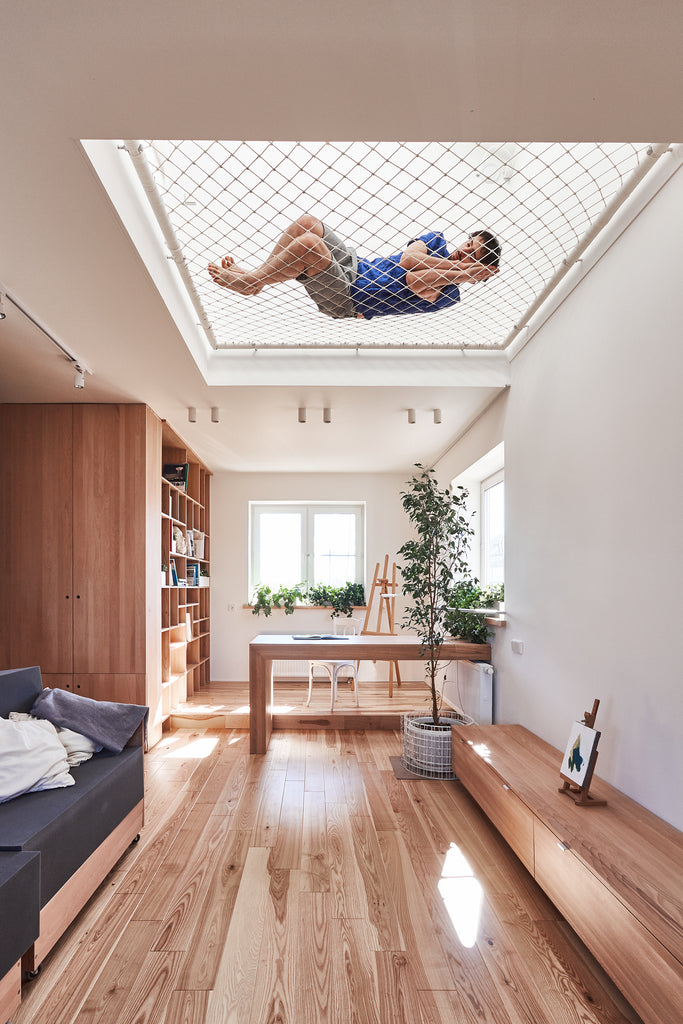 Renovating can be a wholly creative process with out-of-the-box thinking. Sometimes, it's the unusual, the quirky, the unique that makes a project. Renovation doesn't have to be the standard extension, the additional room or the makeover of a kitchen. It can be whatever you want it to be. An unexpected reading nook under the stairs, a wine fridge that emerges out of the kitchen floor, a hammock overhead in a tall ceiling space or a hidden room, the possibilities to add creative flair to your renovation are virtually unlimited, and they don't necessarily have to come at a high cost.

1 / CEILING HAMMOCK
Often, for example, double-height spaces mean there is extensive space overhead that, for the most part, goes unused. So why not use it? A ceiling hammock is a great way to add an inexpensive feature to an otherwise unused space, and it's a fantastic way to relax and enjoy the views if you've got extensive glazing throughout the space – adults and children alike will
love this type of addition to a home.

2 / HIDDEN WINE CELLAR
For wine lovers, how about a spiral hydraulic-controlled hidden wine cellar that upon the press of a button rises out of the kitchen floor to turn into a table stocked with your wine collection?  
This sort of addition to an entertainer's home will, without a doubt, create a real point of difference.
3 / CEILING-HUNG FIREPLACE
For ambience, you generally can't go past a fireplace. But using the fire as a design object and thinking outside of the traditional rectangular firebox, you can create a stunning focal point for the living area. Ceiling-hung fires are at the top-end of technology in this department, along with portable chimneyless fires that can be placed anywhere and moved between rooms as desired.
 / CONVERSATION PIT
And when it comes to entertaining, the lounge and central living areas are generally where people converge. While there are many ways to create places for conversation, perhaps one of the most visually interesting and creative is to lower the floor in the middle of the lounge to create a cosy conversation pit in which the couches sit.
Lowering the floor in this way often adds an element of spaciousness to the overall room and a unique point of difference. Again, it's one of those additions both adults and children alike will enjoy.

5 / STAR GAZING ROOF
Relaxing in bed on a cold winter's night with a book is one thing, but with a bit of creativity that experience could be defined by a star gazing roof above the bed. Operating like a skylight, if placeddirectly above the bed, it allows the homeowner to lie in bed on a clear night and see the stars, or watch the rain as it falls onto the glass.

6 / CONCEALED ROOM
Wall-to-floor bookcases complete with sliding reading ladders are an oft-coveted object, but building a bookshelf like this on the back of an opening door is a fantastic way to both house books as well as create a hidden room – whether it be a little reading nook, a second living area, or a formal lounge. The concealed nature of the room adds a certain allure to any home.

7 / SLIDE BETWEEN LEVELS
Multi-storey homes present further options for creativity, in particular if you're thinking of different ways to move between the levels. One way to create an out-of-the-box aspect to a renovation is to add a slide between levels. Functional, fun and quirky, a slide is another fantastic way to create an element of surprise in the home.

8 / HIDDEN STORAGE
The space under the stairs is just that, useable space, albeit many of us don't get around to doing anything with it. But with a little bit of imagination it's not hard to transform it into easy-to-access storage.
By creating a concealed door out of two or three stairs that lift up, you're instantly providing access to an otherwise unused area of the home. For families with children, this sort of space can provide not just storage but a unique hidden cubby.

9 / UNDERGROUND PARKING
Space is often at a premium, especially outside the house, and this can present an opportunity to think creatively too. A system known as Cardok has become relatively popular in Europe that allows a car to be driven onto a platform, which, when closed is concealed within the landscaping around it.
When open, a car can be driven onto it before it is lowered into the ground and out of sight, leaving the space clear for other activities.

10 / INDOOR/OUTDOOR POOL
We all know the perils of swimming in winter, even if the pool water is warm. It can be a brisk experience entering and exiting an outdoor pool. So why not create a pool that flows between the interior and exterior, separated by retractable glazing that can be opened or closed depending on the weather? It's a unique solution to create a pool that will see much more use than simple
outdoor pools.

If you're aiming to create something a little bit different, it pays to think outside the box and with a bit of creative flair, you can create original, dramatic spaces that will be cherished for years to come.
WRITTEN BY Clare Chapman
IMAGE Ruetemple Architects
Editor Renovate