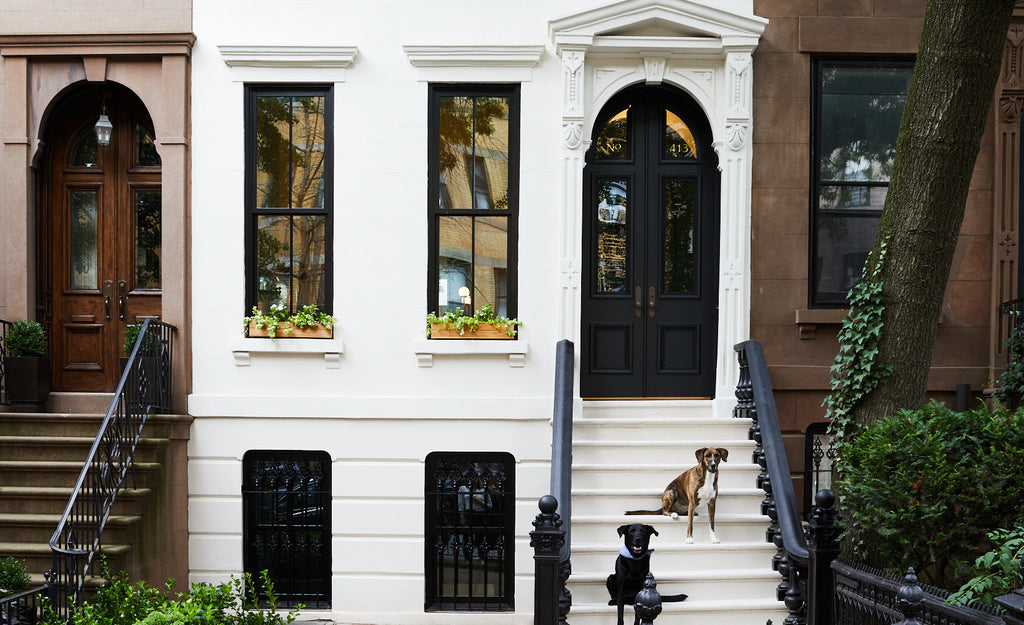 WORDS Mina Phillips   PHOTOGRAPHY Nicole Franzen
Location:
Brooklyn, New York
Project duration:
14 months
Biggest challenge:
Achieving the design within a limited budget.
Architect's advice: "
Renovating townhouses is not for the faint of heart. There are often unforeseen conditions that become apparent once demolition begins. It's important to understand that, especially when working within a limited budget. A townhouse project like this starts with an "archaeological dig" of sorts, so there are no real knowns at the beginning. Start your planning with a contingency in mind, and be willing to make sacrifices, or at the very least be willing to make changes."
Hailed by The New York Times and Time Out Magazine for its bustling, lively family atmosphere and small-town feel, Park Slope is a tree-lined location that gives Central Park a run for its money. The vibrant neighbourhood boasts a range of historic brownstone townhouses; one of which recently went through a complete interior transformation.
Brian Papa and Lauren Maccuaig are the founders and directors of Frances Mildred, the architectural design company which carried out this renovation project. Named after Brian's grandmother, Frances Mildred is a company inspired to help clients achieve their interior aspirations through new and creative designs - something this derelict historical building was in desperate need of. 
"The townhouse was in a state of total disrepair when it was purchased", says Lauren. "However, there were details that reflected the history of the property that we wanted to preserve in order to leave the authentic feeling of a Brooklyn brownstone. The goal was to restore the house with as many original details as possible while updating the layout and finishes for modern living."  
No space was left untouched within this renovation. The exterior of the house required repairs and updating, while the interior was scattered with damage - including a hole in the entryway ceiling. Aside from repairs, the gloomy interior was in need of increased natural lighting and a concise colour scheme.  
"We carefully analyzed the original details of the house to determine what was salvageable, what needed to be recreated, and when it made more sense to start from scratch", explains Lauren.
Among the salvageable features was the original living room doorway, the fireplace (which was restored), and the doors of a wardrobe which were reused in the family room. 
"We spent a lot of time working on the layout of the home, and really understanding how it would be experienced in reality versus on a floor plan", remembers Lauren. "We wanted the spaces to feel appropriately proportioned and to have a circulation that matches a modern family's lifestyle."
The new layout included room transformations and new flooring throughout. What was originally a bathroom was converted into a home office. The initial kitchen was redesigned into a master bathroom - featuring a marble-top double vanity and claw-foot bathtub. While Lauren and Brian wanted to achieve a luxury finish, the limited project budget meant that they needed to find a few frugal solutions.
"We were working under a limited budget but wanted the final project to feel like a high-end home", tells Lauren. "Deciding where to spend the budget and where to save on the budget was tricky and required constant evaluation. It's always challenging weaving modern infrastructure into an old house. Careful consideration was taken when deciding where and how equipment was placed so that it felt seamlessly integrated into a historic home."
IKEA and Etsy provided a few attractive, yet affordable, solutions - especially when it came to the kitchen cabinets, which were painted to better suit the look of the room. A few custom features were added to the children's rooms, including closets, a window seat and a built-in desk.
Six months of thought-out design and a further eight months of construction brought out the home's true potential. A new floorplan now flows through crisp, light-filled rooms.
"The program of the house came together very nicely", approves Lauren. "In a relatively small footprint, we were able to fit 5 bedrooms, 3 full bathrooms, and a generous kitchen that meets the needs of a modern family. The house has a great flow to it. The aesthetic of the décor is calming and modern, which pairs beautifully with the historical details of the house. It has a decidedly urban feel but is also a haven from the chaos of urban life."   
The final look is a grand transformation from the original exterior and interior, with the hub of the home being one of the most successful aspects of the new design. 
"The kitchen is really our favourite room", says Lauren. "The layout works very well within the original footprint of the house. The finishes are soft and textured. The light throughout the day is beautiful as it bounces off the adjacent properties. It looks out over the backyard. It's a very happy and calming space."
Renovate Magazine