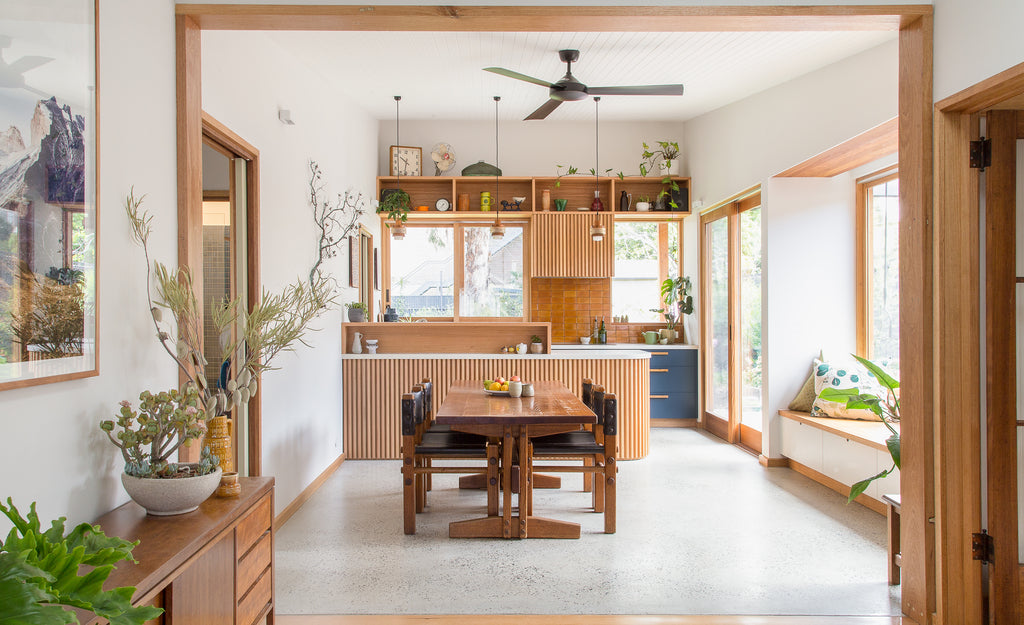 WORDS Mina Phillips Photography Emma Brynes
SUSTAINABLE FEATURES
Composite benchtops using post-industrial stone 

Energy-efficient fridge (eco mode) within a ventilated pantry

Energy-efficient induction cooktop  

Locally made cabinet handles

LED lighting/recycled mid-century copper and pyrex pendant lights

Hand made tiles

Resene environmentally approved paints and sealants

Reused/repurposed: spa bath, drinks trolley, laundry tub, couch, armchairs

Stools made using recycled timbers

Biodegradable rugs

Plant-based linen curtains

Sustainable & fair trade cushion covers
Melbourne homeowners Phil and Rebecca are very conscious of their impact on the earth. Both devoted gardeners, they wanted their Californian bungalow to provide more light, functionality and energy efficiency. They got in touch with Megan Norgate, the sustainable design consultant behind Brave New Eco. With her help, they were able to blend together their home upgrade ideas and sustainable values. 
Entering into the eco-renovation, Megan, Phil and Rebecca put together a list of sustainable priorities. These included energy efficiency, avoiding creating unnecessary waste, and creating a functional home that promoted a low-impact lifestyle. While Phil and Rebecca loved the art deco aspects of their home, they wanted it to be upgraded for 21st-century living. This meant improving the home's insulation and re-orientating living areas toward sunlight.  
"The goal was to use quite a lot of existing elements while creating something that was fairly contemporary", says Megan.
Seeking out sustainable materials meant opting for second hand and locally made items, wherever possible. Throughout their home, they used recycled timbers - from joinery through to stools. Every item selected was considered for its ability to be reused at the end of its life. 
To reduce waste, Megan focused on creating functional spaces within the original layout as much as possible, rather than demolishing and rebuilding. 
"We used soft curves throughout the house to keep it all cohesive", she notes. "Sliding doors open out into the backyard, and the surrounding windows give the kitchen and dining areas a light and airy feel. The kitchen space was originally quite narrow so we put a window seat in to widen the area. The client's love the space and their children enjoy opening up the windows and using it as a play area." 
Megan also designed space for increased storage, allowing Phil and Rebecca to buy groceries in bulk and reduce waste in the process. 
When selecting the fridge, energy efficiency was taken to a new level.
"For the fridge, we did a walk-in pantry. We created a cold-store pantry which has a ventilation pipe running through. Having the fridge in that space keeps everything fresher."
In the bathroom, handmade tiles were installed in a fish-scale pattern. For the vanity, a vintage drinks trolley was repurposed - its wheels removed and a composite stone benchtop attached. With a few improvements, the original bathtub and laundry tub were able to be reused. 
Opting for locally made pieces extended to Phil and Rebecca's choices in furnishings and art. A second-hand couch was brought in, along with vintage armchairs. On the walls, the work of local Australian artists adds to the home's aesthetics.
After two years of work, Phil and Rebecca are now enjoying their new abode. 
"They were committed to a sustainable outcome", Megan appreciatively notes about her clients. "These types of projects are a lot of work but they were really on board and committed."
Phil and Rebecca are more than happy with the final result, especially a few key features.
 "The bathroom was a big favourite", tells Megan. "As was the window seat - the clients love the natural light that comes through."
For anyone considering a sustainable home renovation, Megan offers some advice on where to start.
"Upgrade your insulation and improve your thermal efficiency. Zoning your heating and cooling so that you can close off different areas and make the most of the heat is a good idea too. It's also worth paying for good quality materials and using locally made products to reduce your environmental impact."
Megan says working with the right people will make a big difference.
"Work with designers and trades who are really on board with your ideas and understand what you are trying to achieve."
 This article was featured in Issue 30 of Renovate Magazine.
Renovate Magazine