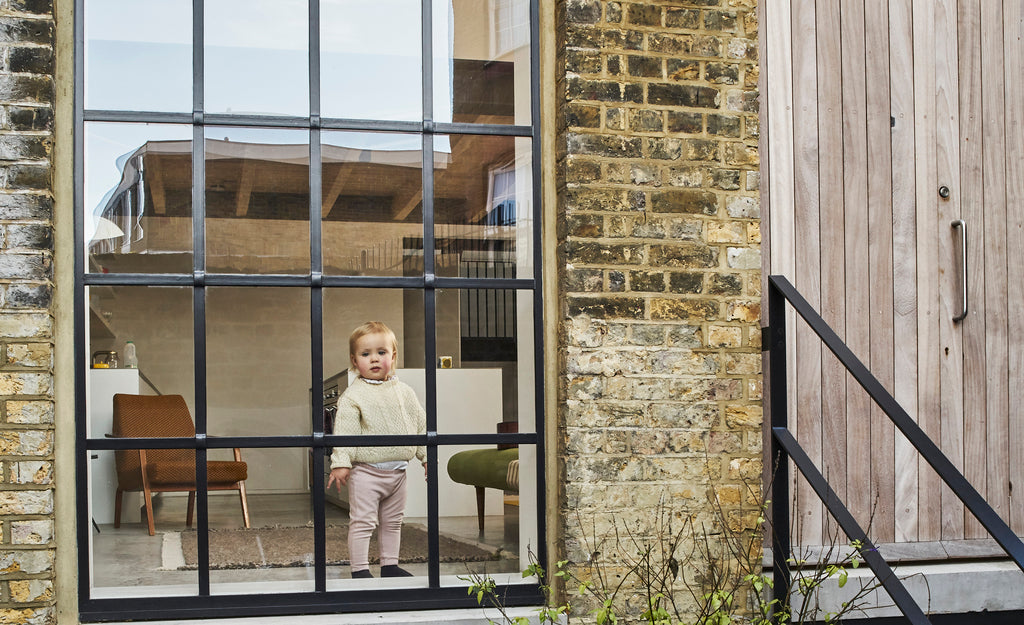 WORDS Mina Phillips PHOTOGRAPHY Leon Chew ARCHITECTS The Modern House
Location:
London
Project duration:
3 Years
Budget:
"We were pretty much on budget. The reason for that is because we followed what I always tell my clients, and that's to have a contingency in place - as much as 20%."
Biggest challenge:
"The challenge was to bring in lots of light."
Architect's advice: "
Working with a planning consultant is really helpful - someone who can help you get planning permission."
While living in his family home in London, Architect Rupert Scott became curious when a run-down, commercial gin-distillery across the road went up for sale. He purchased it, originally taking it on as an architectural project, and soon decided to turn it into a home for his family of four. However, due to the state of the building, it was a large project.
"It was completely run down", says Rupert. "The insides were completely derelict." 
So what inspired him to take it on as a project? 
"I guess it was a building of that size for not much money and it was an area we knew. When we first decided to buy the building we weren't sure whether we were going to live on the property or not, but we soon realised that was what we wanted to do. It was as much an architectural ambition as it was to make a family home. So we were looking very much to create something that was for our family."
A large priority within the renovation was to transform the desolate industrial building into a place that would feel like a home to Rupert's two young children. A starting point was to create more light.
"The project was driven by a need for light", says Rupert. "It was very dark when we first bought it. We tried to bring in as much light from the top of the building as possible and through the rear-facing windows."
Due to the time it took to be granted planning permission and to complete the design process, Rupert had owned the property for two years before any building work commenced. 
"The building was in the corner of a carpark which was owned by the council", Rupert explains. "We had to get a right-of-way organised there and the legal stuff around that was a real challenge. We designed the whole thing before applying for planning permission."
The design for the renovation included a downstairs open plan living area, with a stairway which would lead up to the master bedroom and terraced garden.
"We created lots of pockets of green spaces throughout, including on the terrace", tells Rupert. "You kind of have a sense of living within a green envelope. We created a timber deck for the terrace outside. Within that, we had a gardener friend who did lots of planting. His expertise meant he knew which plants to choose that didn't require much light and could live within the London clay and tile conditions."
During the design process, Rupert took inspiration from the original building.
"We kind of learnt from the building's history", says Rupert. "This influenced the way that we treated the outside. In the end, it was like building a completely new house while keeping within its brick skin. The back two sides of the building now poke out the top of the existing building."
Rupert knew from past projects that having a contingency budget in place would be essential, and he puts this down to how he managed to stay within his budget right through to the project's completion.
"Contingency's really important. We were pretty much on budget. The reason for that is because we followed what I always tell my clients, and that's to have a contingency in place - as much as 20%. In my experience, the contingency always gets spent because there are side contingencies. So we ended up pretty much where we thought we'd be at the start, plus probably an extra 2% - 3%.
It took one year for the build to be completed, providing Rupert and his family with what is now a modern, industrial style, open-plan space; made homely by a fireplace, plants and the talented design skills of Rupert's wife Leo - who has since been inspired to open her own interior design company Kinder Designs.
"We used a lot of reclaimed retro decor", says Rupert. "My wife, Leo Wood, is really amazing at sourcing things like that and has always had an eye for design. This project was a springboard for her and she is now operating as an interior designer."
Rupert, who has been living in the house for two years now, says he is finally settling in.
"Because I was the architect, once we moved in it took me quite a long time to just relax and enjoy having it as a home. So I think I've really enjoyed it more in the second year, more than the first. As both the architect and the homeowner it was different because I was sort of overseeing the whole thing.
"That being said, I'm really pleased with the ceiling, and having an open plan kitchen works really well. The younger ones are enjoying having play space. In their bedroom, they have one long continuous bed and sleep in a line, which they really like."
Rupert may be modest about the final result but the house speaks for itself. In 2018, his company Open Practice Architecture received the RIBA (Royal Institute of British Architects) London House of the Year Award, for their work on the distillery-turned-home.
For anyone interested in attempting a similar project, Rupert has a few words of wisdom.
"Stick to simple pallet materials and keep in mind that you don't need to cram all of your ideas into one project, necessarily. This project was very much about thinking about the ceiling space and focusing on utilising black steelwork and walls. The colour comes from the furnishings and objects rather than the building itself.
"It's really important to get a good architect so that you can get design continuity. You really want to find an architect that you can get along with and build a rapport with, otherwise, it's not going to work. It's really important to be able to speak openly with each other throughout the process."
 This article was featured in Issue 30 of Renovate Magazine.
Renovate Magazine