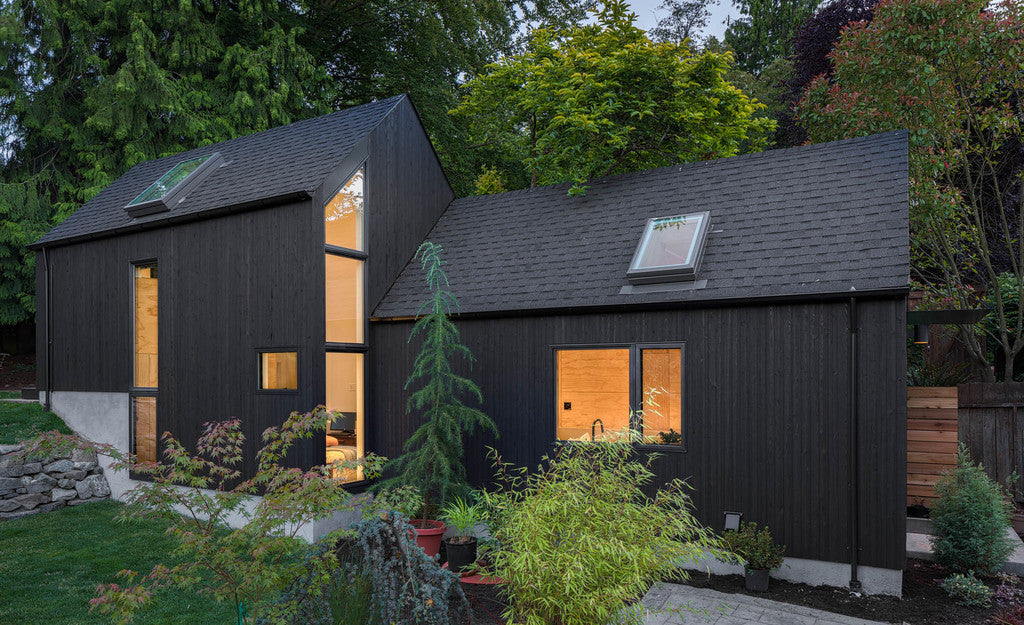 WORDS Mina Phillips IMAGES Ed Sozinho ARCHITECT Best Practise Architecture
Project duration:
19 months
Location:
Seattle, Washington
Special features:
An open plan design and curbless shower accommodate for decreased mobility
Project size:
571 square feet
Landscaping work:
Private deck and garden
Architect's advice:

"Be patient with your city or jurisdiction's requirements and carefully select a contractor that you think you can work with at your home over a period of time."
When the owners of this Seattle property decided they wanted their granny to live close by, a lack of space at home and a lack of housing options left them with one solution: converting their garage into a "granny pad". They got in touch with Best Practice Architecture, who provided a future-proof renovation.
The original slope behind the garage provided Best Practice with an opportunity to get creative. A 571 square foot design was presented to the homeowners, showcasing a granny pad with high ceilings and an extension which made the most of the sloping landscape.
"Design considerations included looking at the project on both a short-term and long-term timeline", says Best Practice Architecture owner Ian Butcher. "First, Best Practice needed to address the immediate needs of the client. They also considered future uses of the space as a possible rental unit, studio, office or another income-generating project for the family. And they needed to do all of that using just 571 square feet."
Privacy and easy mobility were central to the design. To achieve this, Best Practice created a large open space for granny to move around in, all on one level. Windows and skylights were placed to provide plenty of natural lighting while also maintaining privacy. Within this area, the entrance, kitchen and living room were created. Just behind the living room - granny's bedroom, sectioned off by pink drawers. Beyond this, the pad's laundry and bathroom were installed; featuring an easy-to-access walk-in shower.
"A lofted space above the bathroom, which can be accessed by a ladder, will be used as storage for the time being, but can easily be transformed into an office or sleeping loft in the future", notes Ian. "All of these details come together to create a soaring, open feeling that makes the relatively small footprint of the granny pad feel much larger." 
With the interior complete, Ian and his team moved onto the surrounding landscape. On the higher level, a private deck now leads out from the loft. On the lower, the driveway has been replaced by a front garden for granny. Guests can enjoy it as they enter and exit through the home's entranceway. 
The new design has come a long way from the original little garage. Within the final result, Ian says there are a few stand-out features. This includes the pop of colour brought out through a pink table and chest of drawers within granny's bedroom area, which matches the lively colour of the front door.  
"The interior plywood panelling in a cool quilt pattern and the private outdoor nook to the rear of the dwelling are both stand-outs", adds Ian. "A mixture of new pieces and granny's own decor provides an eclectic and homey interior space."
While Ian is proud of the final result, the most important feedback comes from his clients:
"We are really loving it! I can't emphasize enough how much security I have knowing mum is right there in the backyard if she needs us. As she ages, she does have increasing needs that I can address within a moment's notice. It's not a phone call or drive away—I'm just right there when things come up. Unexpected pluses are the little things that come up day to day, like serving granny coffee in bed!"
 This article was featured in Issue 30 of Renovate Magazine.
Renovate Magazine