TRICKS OF LIGHT - The Sun Rain Rooms in London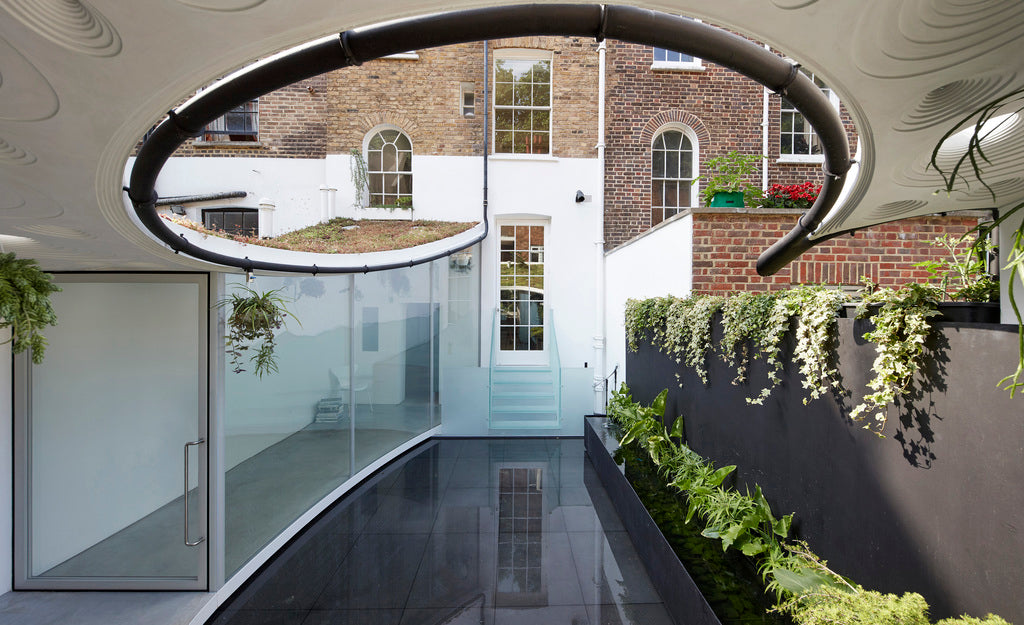 WORDS Jason Burgess  

The ingenious use of a reflecting pond in this extraordinary London extension, not only reimagines the possibilities of an urban garden, it unites and divides traditional and contemporary architecture, while playfully bouncing movement, atmosphere and light into a historic home.

The sweeping organic shapes of the patio and green roof extension at the home and studio of architects Anna Liu and Mike Tonkin, has been called everything from eclectic and eccentric to retro-futurist and poetic. Audacious as it first seems this addition to their Grade 2 listed Georgian townhouse was 12 years in gestation and is masterfully designed to harness the light, the heat and the movements of every changing season. The result is an all-weather, multi-purpose area where lines and space dissolve leaving an overall illusion of capaciousness on an otherwise limited footprint.

The Sun Rain Rooms project draws on the natural world for design and infrastructural details. Everything from pooling raindrops to the structure of seashells informs the construction of the roof area. Biomimicry is key to the Tonkin Liu architectural practice.  "Our main aim," says Anna, "is to connect people to nature, through integrating elements such as the sun, rain, wind, greenery and by using stories and symbols."


The twists and turns of the curvilinear stairwell and the fine cornice detailing in the historic home are referenced too. Strategically sited reflective surfaces within the home further blur architectural boundaries by drawing in and increasing the reach of the garden ambience.

Water underpins the overall form and function of the outdoor spaces. In ancient architecture, water has represented purification and life, communication and dreams. As a focal point and backdrop at the Sun Rain Rooms, the reflecting pond invites contemplation and, conversation. The 10-metres long arcing roofline mirrors the pond's shape and shelters the curving double-glazed corridor and open seated zone. On a hot day evaporating water cools the areas surrounding the pond. In cooler months, the sunroom absorbs heat and the warm air enters the house through the corridor before rising up the home's stairwell.

On the rear external wall, mirrored cavity sliders add depth and an impression of spaciousness. Behind these mirrors lies a workshop, cooking area, potting shed and access to the planters that host the small trees in the green roof. A series of circular double-glazed skylights recessed in 'stepped coffers" punctuate the white-painted, undulating ceiling. Their surrounding concentric contours evoke the movements of rippling droplets in the pool below. The ceiling/roof construction is formed from layers of 6mm plywood CNC cut and glued with insulation bonding the two outermost layers.

The sedum-planted garden roof and the pond are hydrated by the heavens. When it rains, water drops four-stories from the townhouse roof, courses through a pipe tracing the leading-edge curve of the garden roof before finally falling through an open spout into a rain harvest tank. The pond can be flooded or drained at the push of a button. Rain falling on the green roof simply percolates through the garden before cascading over the edges into the pond below. The effect is like sitting under a waterfall.

A set of floating stairs link the kitchen with the reflecting pond area. Each tread is formed from three layers of sandblasted laminated glass that conceals its steel fixtures while also allowing unimpeded daylight into the light-well that houses a black spiral staircase connecting the main house with the former basement -now bedroom- below. In the bedroom, a curved 'sleeping niche' made from laminated pine provides en-suite privacy while echoing the shape of the roofline above.

"The genesis of the form," says Anna, "was watching the arc of the sun across the courtyard. Effectively we built over the shaded area of the courtyard. We started with two lists: pragmatic and poetic with words like recycling, barbecue, gardening, tools on one side. On the other, it was watching the sun and listening to the rain, things without purpose that bring us elemental joy and delight, space and time to just "Be'."
Architects: TonkinLui
Structural engineers
Roof: Mervyn Rodrigues
Structural glass staircase: Tim Macfarlane
Green roof: https://www.sky-garden.co.uk
Renovate Magazine