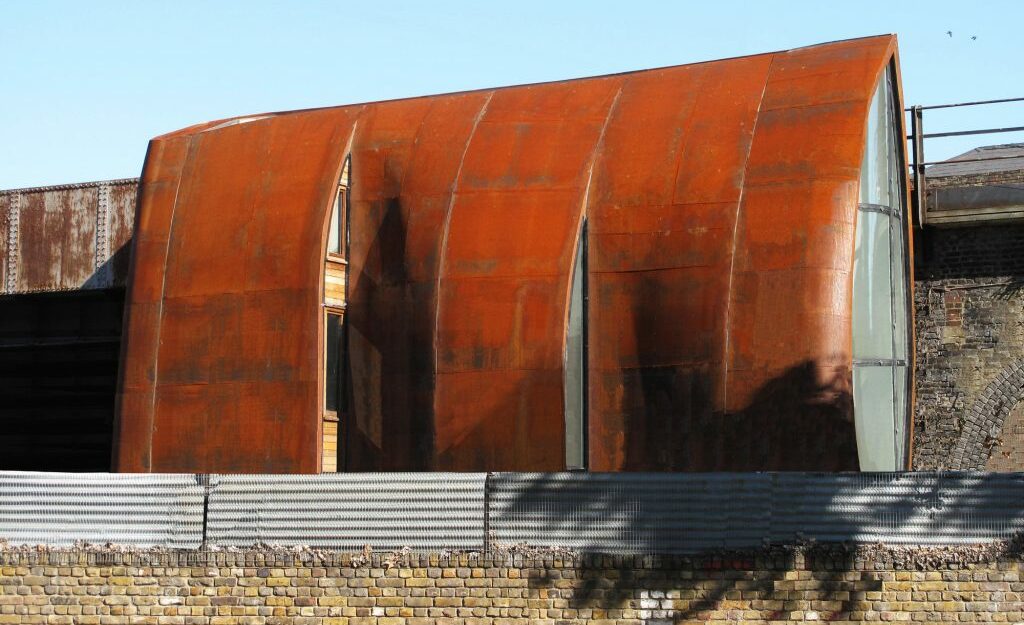 WORDS Amber Baker ARCHITECTURE Undercurrent Architects IMAGES Candice Lake
Building around an inner-city 19th Century rail viaduct isn't for everyone. In fact, it wasn't considered a possibility until Undercurrent Architects stepped up to the plate. The rightly-so named 'Archway Studios' space is now regarded as an exemplar of how it is actually very possible to develop liveable spaces in what was previously considered un-developable and un-inhabitable inner-city land.
Considering the extreme environmental and technical constraints the project overcame, it was a challenge of epic proportions. Architect Didier Ryan explains,
"The site was one of the most embattled, unpleasant and grottiest spaces you can get. It was dark, noisy, wet, dank and hemmed in. The toughest environmental conditions possible."


The unique twisting and scooping design elements weren't simply sketched at random. With the site's location residing in London's Elephant and Castle area, the architects based their early concept on a boa constrictor digesting an elephant like the illustration from the book 'The Little Prince'.
"We aimed for playful camouflage and open concealment," explains Didier.
Much like a twisted contortion of a boa constrictor wrapping around its prey, the billowing building's capacity for openings and windows was minimal. This is where the alternating convex and concave surfaces came into play, allowing pockets of natural light to be captured and fill the darkest corners of the space.

Beyond the challenge of bringing natural light into a dark site, Didier explains other technical challenges included:
Managing noise from overhead railway lines less than two metres away
Dampening vibration generated by 265-tonne trains passing frequently overhead
A protracted planning process to achieve permission for such a striking building
Sourcing fabricators capable of building non-usual forms
Extreme safety standards in constructing alongside an active railway line

Through a thorough and incredibly considered design, Undercurrent Architects solved the seemingly un-inhabitable space through the use of Palmwood, curved glass and rusted steel among other innovative technology and methods.
"The building applies stressed skin construction from ship and aircraft manufacturing to distribute loads throughout the entire surface, so dense, yet thin walls can meet the extreme environmental demands. This includes addressing excessive noise and vibration from passing trains and maximising apertures to collect daylight without compromising privacy and introspection."
Didier also explained how Palmwood is used for the vertical lacerations in a railway sleeper configuration and therefore the rust-oxidised coloured steel frame exterior was a deliberate decision by the team to form a striking relationship that helps the building stand out even when dwarfed by towering urban neighbours.

While the project involved heavy architectural and engineering problem solving, the architects wanted to space to be more than a Rubiks cube they had to solve.
"The building's unique design and appearance help it to stand out even when dwarfed by inner-city neighbours. As one of 10,000 arches that dissect neighbourhoods across London, it is a model that can be adapted for broad community benefit," says Didier, "This project was an opportunity to redress this at the neighbourhood scale, while inverting the Dickensian qualities of the railway viaduct to make an attractive and uplifting building."

 This inspirational home was featured in Issue 29 of Renovate Magazine.
Renovate Magazine