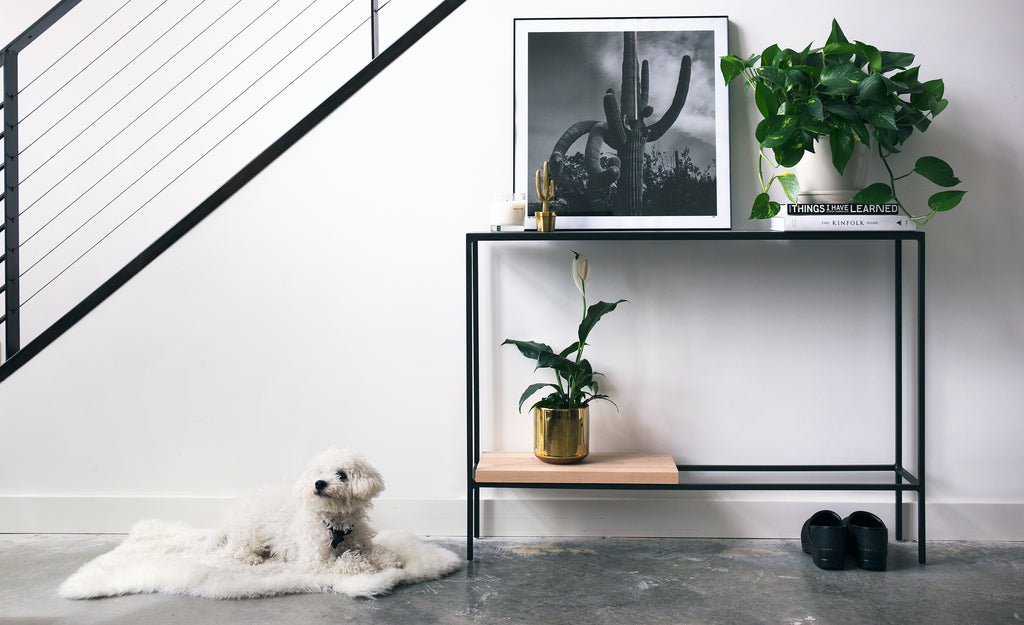 WORDS Mina Phillips IMAGES Kevin Short ARCHITECT Tiny Monster
Location: San Francisco
Project description: Loft interior renovation
Project duration: Construction took 3 months
Construction budget: $60,000 USD
Final spend: $60,000 USD + $10,000USD to furnish
Loft size: 65 square metres (approx.)
Advice: "When you're renovating a small space like this you can't really live there at the same time. You have to move out. We had to move out for three months."
After watching the loft come on and off the market, Katie (Tiny Monster's designer) became curious. Along with her fiance Kevin (Tiny Monster's architect), she contacted a realtor and went to take a closer look. Once inside, they realised the layout was everything they wanted. The catch? The plaster on the walls had faded, the finishes were old and the whole place was in need of an update.
"We got really excited and thought; if we're going to buy a place, we can buy a place like this and then renovate it into exactly what we want", says Kevin. 
They purchased the property in 2015 and began collecting ideas for the transformation. 
"There was about a year between the time when we bought it and the time that we started working on the design. During that time we would occasionally pull out drawings, look at other buildings, sketch out ideas and talk about things. So we slowly formulated it", Kevin explains.
While many ideas were discussed (including a swing hanging from the ceiling) Kevin and Katie decided to zone in on their priorities. A new kitchen layout was at the top of the list, closely followed by new fixtures in the bathroom, and bringing the faded walls back to life. 
In terms of design, they were clear about what they liked.
"We're fans of clean Scandinavian design as well as modern design", tells Kevin. "We wanted to have lots of natural wood finishes as well as add in a bit of fun. In Scandinavia, they use a lot of light, natural wood so all of our shelves are made of light woods. I also really like Japanese minimalist design - spaces that are clean and filtered down. Other than that, we like having a simple base foundation pallet - lots of blacks, whites and wood. That allowed us to add a lot of life to the loft through interior decoration and furnishings."
Living and working within a 65m2 space meant that storage was also a high priority, so the couple created plenty of room for hidden storage in their design - only displaying carefully curated items such as books and plants.
"For me, that helped to build a peaceful place where you can breathe and not be surrounded by all this junk", shares Kevin. "In America, everything is so big. Everyone has giant walk-in closets and three-car garages. It hacks into questions like: do we need a lot of these things?"
Once their ideas were clear, the couple spent three months designing the project and the two following months seeking cost estimates from contractors. Construction began in 2017, with Kevin and Katie doing much of the work themselves. Luckily, they didn't require any exterior work - which made things easier on their budget.
"Our loft was built in 1994, so all of our windows are insulated; meaning the place maintains thermal comfort", tells Kevin. "With a lot of old lofts, the windows are single pane and they get really cold."
Carrying out around 50% of the work themselves was a demanding process.
"The whole thing was a challenge!", says Kevin. "Katie and I both did 100% of the construction management. I was out here every single day pushing our contractors to get their work done, calling people when they weren't showing up on site. A lot of times things just go wrong. You have to be just a little bit crazy to manage a construction project because it is a really challenging thing with a lot of people involved and a lot of money going out."
Needless to say, when the three months of construction were up, Kevin was in need of a holiday.
"By the end of the project, I was a mess. Katie had to take me down to Mexico and just sit me on the beach and feed me margaritas", he laughs. "By the end, we really needed some time to relax. That being said, we worked on it as partners and it's the most rewarding thing we've ever done. I love living here more than any other place I've ever lived. Because there are so many parts to the project, it takes a lot of work. But I can proudly say that we finished on time and on budget."
With the construction complete, Kevin and Katie were free to add colour and life to their newly designed space. They brought in modern furniture, plants, and hung up art that was both bought and home-made. One of their favourite features, though, is their curtains.
"We got our curtains from Jaipur, India, while we were travelling there in 2016", explains Kevin. "We sourced the hand-blocked material from a manufacturer in India and had the material shipped over to the United States. We then found a seamstress here who sewed all of the pieces together into the size that we needed for these floor-to-ceiling and wall-to-wall curtains."
To save on costs, Kevin and Katie got creative with products from IKEA. For their headboard, they purchased IKEA shelving and screwed a piece of plywood onto the face of the headboard. 
"So the frame of it is IKEA, with a custom finish", notes Kevin. "That's a really chic way to turn inexpensive things into something cool. We also got a built-in closet from IKEA. It keeps everything super organised and really clean. I love the functionality of it."
A few of Kevin's other favourite features include smart lighting ("I can just pull out my phone, say "Siri turn the lights out" and then walk right out the door!"), the kitchen, and the functionality of the loft itself.
"This is where we run our design studio, so during the day, it turns into an office. Then, at the end of the day, we can close up the studio and put things away in storage. By the evening it's our home again. Having a multifunctional space is really nice and works really well for our living and working lifestyle. 
"We didn't seek out a loft but now that I have lived in one I think it's amazing! The sense of space that you get is lovely. It's open, it's fresh, it's full of light - it's such a joy."
 This article was featured in Issue 30 of Renovate Magazine
Renovate Magazine