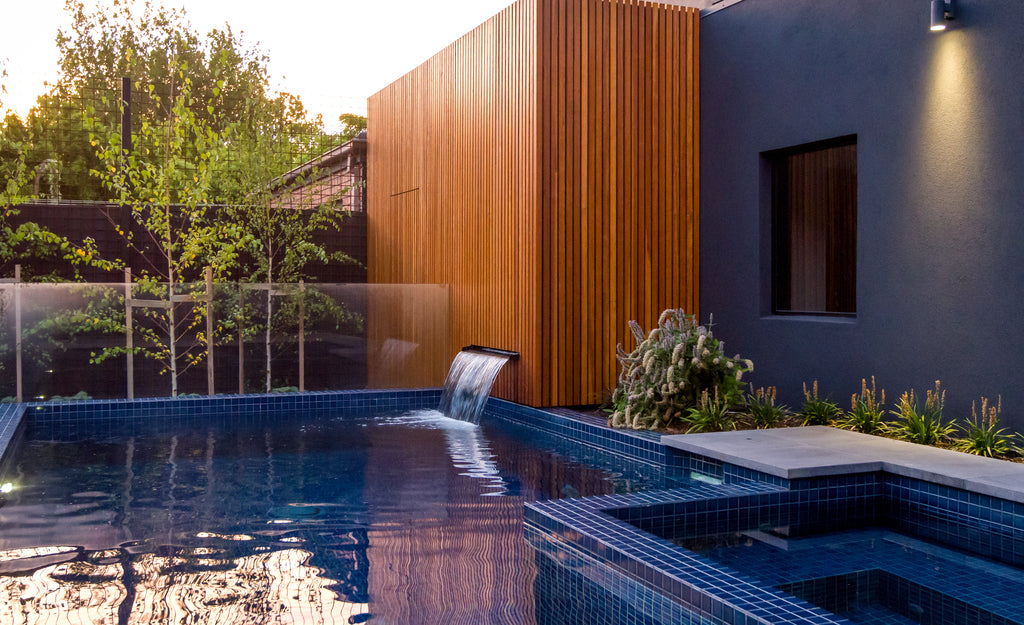 WORDS Mina Phillips  PHOTOGRAPHY Erik Holt  LANDSCAPING Ian Barker Gardens
When Ian Barker Gardens first attended this Malvern East property, the backyard was a small, relatively blank space. The homeowners wanted to implement an attractive design that would offer functionality as well as social and family living areas. Their requests included a lawn area for the kids to play on, a swimming pool, a spa and entertainment areas. 
The landscape company was conscious of the small space during the design process, ensuring each area had a purpose and provided spaciousness. Flowing out from the interior living room, an alfresco area was designed and built. It now includes a built-in BBQ, a dining area, and a herb and vegetable garden.
Providing the family with continuity, Ian Barker Gardens installed bluestone steppers which lead from the dining area across to the swimming pool. On the left, silver birch trees, also known as Betula pendula, trail alongside the pathway while Ajuga reptans (bugleweed) border the steppers.
The backyard's standout features - the swimming pool and spa - have been shaped around the house exterior. Installed on a raised area, the pool exhibits seawater blue tiles and a small waterfall - creating a sense of resort-style luxury. The waterfall appears out of a timber batten screen, which acts as an aesthetic layer between the landscape and the pool accessories sitting behind. The spa sits within the swimming pool, which provides a clever use of space and allows the homeowners to easily supervise their children as they swim. 
To the side of the pool, Boston Ivy climbs the walls and wiring surrounding an open, steel pergola. Underneath, sun loungers sit on bluestone pavers; completing the 'staycation' feel of the design.
When asked about their thoughts on the final result, the designers and builders behind Ian Barker Gardens describe the project as "absolutely amazing."
"With a few years of growth, the garden is set to be the lush and tranquil oasis (the) clients always dreamed of – their own private sanctuary to relax and unwind in."
  This article was featured in Issue 30 of Renovate Magazine
Renovate Magazine