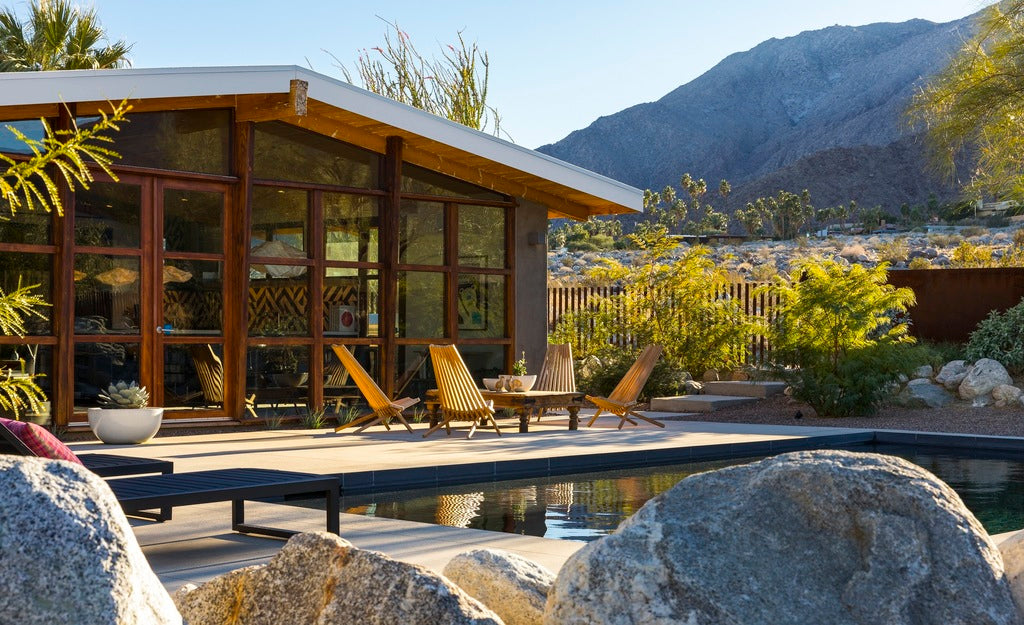 WORDS Amber Baker ARCHITECT Hundred Mile House LOCATION Palm Springs, USA
Most sane buyers would have torn down this original 1954 Rancho-style home that sat beneath the San Jacinto Mountains. Reeking of cats and dogs and falling apart at the seams it was a 'trouble child' in appearance. But for architect Duane Smith, its unique characteristics were exactly what they were looking for. Tired of the big city life, the traffic and stress that comes with it all having lived in Hong Kong and Los Angeles, they needed an escape.

"We loved the serenity, inspiring landscape, and heritage in Palm Springs. We decided on this particular house for a variety of reasons, including location, views, character, neighbourhood. Our realtor thought we were crazy to even consider this house… But we had renovated and built new homes before so were not daunted by the task," explains Duane, "I love renovations where I can help turn a poorly functioning floor plan into a dream home with some unexpected changes."


Although not daunted, it was still not going to be an easy task. "It was in VERY rough shape and needed a lot of TLC. But the originality of the design, the spectacular views and location, and the eclectic neighbourhood sold us." The original home was only 100 SQM with two small bedrooms and a bathroom that could only be described as horrific. The kitchen was small and awkward, and there was no easily defined entrance. "We wanted to add square footage to make it a comfortable three-bedroom, two-bathroom home that could comfortably accommodate guests and some home office space."


A primary objective for the renovation was to maintain the unique character of the original structure while upgrading the home to be more energy efficient, spacious and functional. What resulted is a warm contemporary take on a modern mid-century home. The new L-shaped footprint wraps around the entry courtyard with a new pool and patio off the main living area, providing a welcome respite from the desert heat. The original siting of the house conveniently already considered the desert sun, which Duane took advantage of, allowing the main living area and window wall to remain in shade for most of the day with deep eaves and a Northwest exposure. Private outdoor spaces off each bedroom create a uniquely Californian experience for the family and their guests with charcoal firepits. The exteriors boast a satisfying spread of xeriscaping style planting (succulents and cacti), pebbled pathways, pavers and boulders that all humbly reflect to the surrounding terrain.


The interiors are just as thoughtful Duane explains: "The material palette is inspired by the desert – raw, harsh, minimal. Rusted steel fencing and courtyard walls compliment a crisp sand-coloured stucco, while the dark wood windows mirror the rust and add warmth and sophistication and pops of colour on the interior mimic the bright desert blooms that bring the desert alive in the spring."


It's no surprise the couple's love for the newly renovated property quickly shifted from a weekend escape to a full-time residence. They now spend their days enjoying coffee by the pool watching the sunrise, idyllically illuminating the nearby mountainscape.
Renovate Magazine