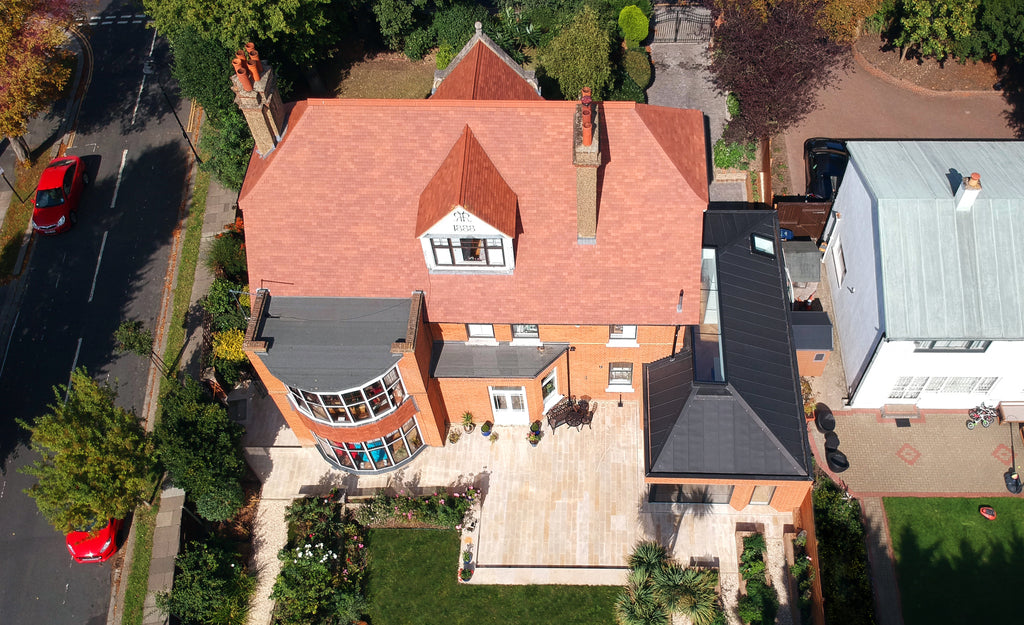 WORDS Margaux Black ARCHITECT OAO Architects IMAGES Alexander Metcalfe
Although the house was spacious, with high ceilings, it desperately needed some updates in others, especially in regards to the kitchen. The owners, Sharon and Richard, said, "For our family, we found it an uncomfortable place to gather and entertain. We just needed more space, a place we could gather as a family and feel comfortable." 

This was a large focus for the owners, having an ample and spacious garden kitchen was not just a dream, but a requirement. With keen green thumbs on both parts, it was a necessity to ensure there was enough space from the kitchen to grow, harvest and store their fresh produce. "The original house's kitchen just wasn't working for us, a poorly constructed 1980s conservatory that once stood on the site would be freezing cold in the winter and boiling hot in the summer."


Inspired by the principles of Victorian Orangery's, their Architects, OAO, created a space double the original height with complete double glazing, allowing more than enough daylight to cultivate plants. The owners said hiring a young firm like OAO was the reason they were so happy with the end result "creativity really transformed this project from what could have been a standard side extension into a well-considered piece of contemporary architecture." The rear garden was designed to form two separate spaces, one for entertaining and the other for cultivating their fruit and vegetables. With a stepped garden and raised beds, these create the perfect area for growth, and the newly added linear patio seamlessly matches with the rest of property, completing that alfresco feeling.

Ironically, the hardest thing for the owners at first, however, was stepping away from their original vision of a 'mock Victorian style' extension and trusting the team at OAO for a more contemporary design. However, once they were able to move past this, the project moved forward seamlessly and resulted in some beautiful and original concepts. "Their ideas like the front growing wall, large slot skylight and sculptured brick piers really add texture and character to the project that we could have never envisioned on our own."

The project ended up sticking close to budget, and also to their envisioned timeframe. An almost unheard of feat, considering construction took place during part of a cold winter. Their creative extension created a secondary entrance to the beautiful property, which is set back from the street front with a handmade brick-lined pocket. The bricks ended up becoming quite the feature for the property. As the house sits within a conservation area, it was important that the external façade of the extension was able to match or blend with the original style.

The handmade bricks were specifically found by their architects and were angled using a specific technique called tuck-pointing. This creates the stunning texture and shadowing effect to the overall façade and allows you to see the mortar sitting proudly from the brick. This technique gives a much greater sense of definition and really gives a striking architecturally designed feature.


The use of space has also been cleverly designed, maximizing on the indoor outdoor flow and allowing for a practical update while maintaining the sleek and striking look of the place. With hidden cupboards and draws, designed to store jarred & pickled produce from the garden, a functional pantry and the utility room, the area is perfectly adaptable from functioning kitchen to entertaining space. The existing kitchen has been completely replaced with bespoke made units. With cupboard doors made traditionally from Tulipwood and marble countertops and copper accents to contrast, the updated kitchen is sleek and stylish.

The house as it stands now combines a striking Victorian styled mansion with a modern and practical update, adding a new chapter to the history of the home and allowing Richard and Sharon to really make their mark on the property.
They couldn't be more thrilled the result explaining, "We are so in awe… it's been truly transformative. We have this amazing exciting space which has become the heart of our home."

 This inspirational home was featured in Renovate Magazine Issue 29
Renovate Magazine