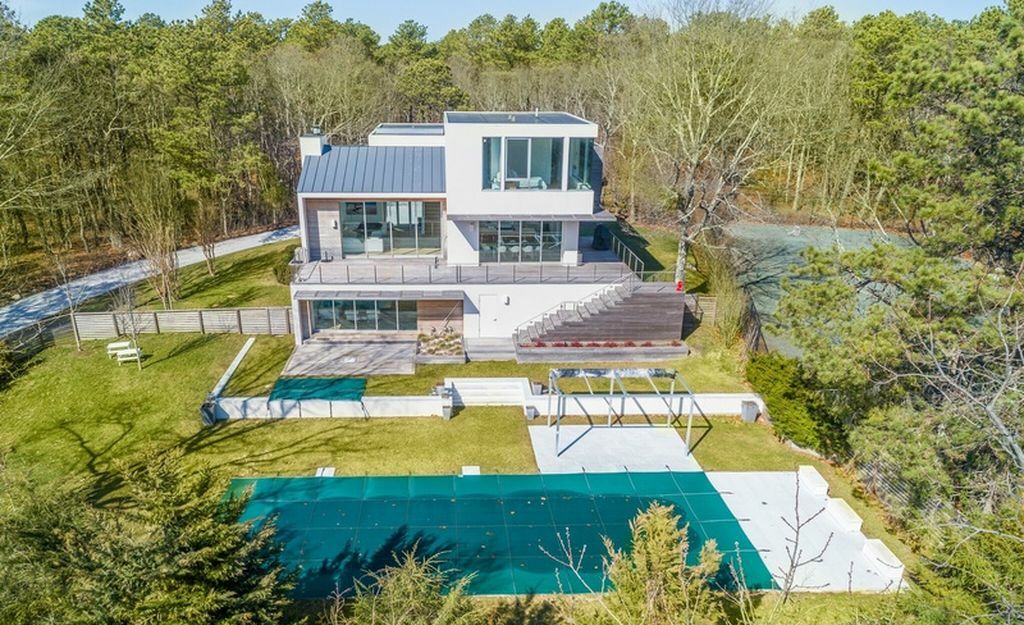 WORDS Amber Baker ARCHITECTURE Isaac Rae Studios IMAGES Isaac Rae Studios
Down an unassuming dead-end road in Watermill, NY, you'll find an impressively private yet quietly dramatic summer home on a two-acre section. It wasn't always a modern masterpiece, in fact, when asked of the original appearance, the words that sprung to Isaac Rae's principal architect Clay Coffey's mind, were 'outdated and neglected.'

Isaac Rae, a husband/wife founded architecture and design studio based in Brooklyn was brought on board to turn a family of four's vision of an indoor-outdoor entertainer's dream home into a reality. Clay and Margot Coffey's approach to architecture is unconventional with Clay explaining, "We put art, awareness and atmosphere first… our design process remains rooted in two things, one – tapping into the natural surroundings or essence of a particular place to salvage and celebrate it in some way and two – designing a space using its greatest proportions and natural geometries." This is evident in the transformation of the three-bedroom, three-bathroom Tanagers lane home into a five-bedroom and seven-bathroom retreat.


Like all renovations, the project wasn't without its challenges. Originally expecting it to be a small-scale renovation, surprises like significant water damage and previous disjointed updates meant the best solution was to do a full ground-up renovation.

The basis of the bright and inviting design centered on visual framing for the 1987 home, "We wanted to create an elegant and private natural landscape and then frame it from every vantage point possible within the home," explains Clay. With the most essential element of the redesign focusing on optimizing indoor/outdoor space and flow, Isaac Rae explored the relationship between the living space and natural grounds. "By using collapsing glass walls, we expanded the open plan living space on the basement level as well as the ground floor." Now the family can use the patio and deck space in high summer and good weather throughout the year.


When discussing the newly transformed home, it's hard to narrow down the favourite features. But its seamless indoor-outdoor living certainly makes it to the top of the bunch, "Most unique to the Tanager Lane compound is the seamless indoor/outdoor living space. Two of the three stories of this home - the basement and main living floors - have retractable glass walls that fully open up to provide en plein air access for lounging, dining, entertaining poolside or terrace side, directly from the kitchen, living room or downstairs lounge. "


As one would expect, the house upgrade didn't leave the surrounding gardens outside for dust. Clay explains, "The grounds were re-landscaped to create even more privacy and garden views from the house and around the tennis court and pools, and the pool was redesigned and went from 14x36 standard pool to a 18x50 saltwater gunite pool with a hot tub terraced above it overlooking the backyard garden."

 This inspirational home was featured in Issue 29 of Renovate Magazine
Renovate Magazine