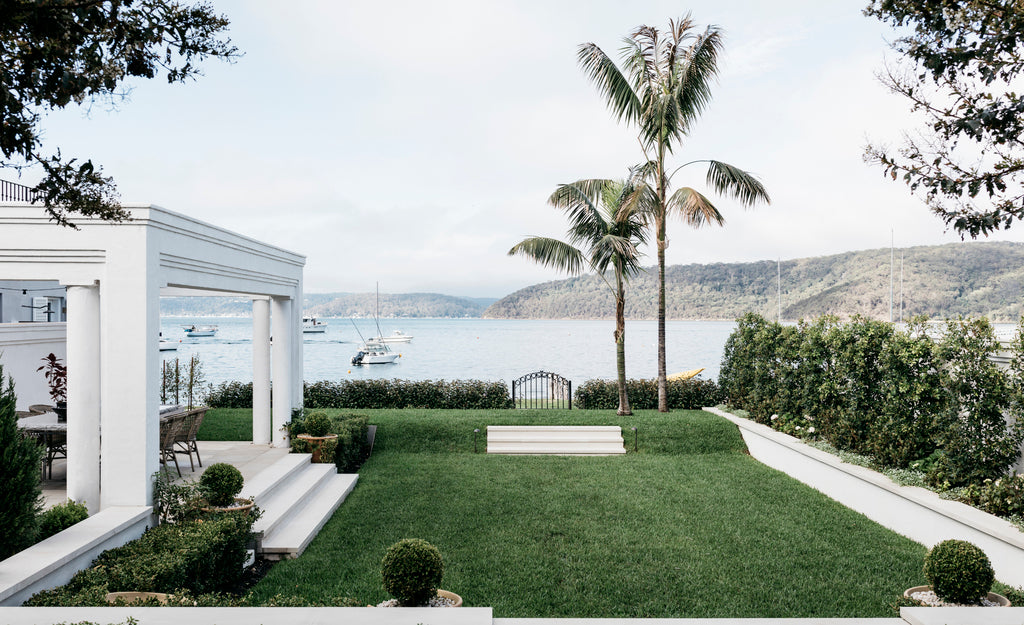 WORDS Donna Webeck PHOTOGRAPHY Felix Forest ARCHITECT Alexander & Co
Influenced by fond memories spent along the stunning Adriatic coastline, the owners approached architect, Jeremy Bull, from Alexander & Co, to transform their tired waterfront villa into a tantalising holiday home, reminiscent of much-loved European holidays.

"The project is a restrained approach to a traditional European vernacular, exploring bespoke quality detailing, materiality and architectural framing," Jeremy confirms. "With the existing house ineffectively dealing with scale limitations, the brief was primarily to explore how we could reintroduce a higher quality of spatial resolution. The plans and volumes were subsequently rationalised around better circulation, view corridors and access to the water. We ensured that all rooms had a view connection, or were orientated around the internal courtyard."

After arriving at a design concept of 'French minimalism', the intent was to find the line between contemporary architecture and something more delicate, feminine and detailed. Some of these European influences included flush door heads, oversize window reveals and square set cornices. Other flawless finishes included white textured, painted and timber-panels, exposed oak of various stains as well as tonal and grey stone. The fixtures are mostly patinated brass, and the occasional feature item was accented in either a Walnut, upholstery or pattern.

"The palette is tonal and complementary. It has a softness and femininity, after all, it is a beach house," Jeremy explains. "We imagined what driftwood from Palm Beach would feel like if washed up on the shores of the Seine. Gentle, tactile and a little bit aged."

Palm Beach house also relishes a 'hand made' focus. "Fittings, finishes, lighting and claddings all express an artisan reference point," he advises. "The paired back interiors, subdued palette and hand-made quality creates a 'lived in' atmosphere for the client, an important element for them to experience a sense of place and history."

Another important brief for this holiday home was to integrate external living and dining, while being careful not to detract from the beauty of its splendid surrounds.
"The design of the home as a holiday house meant that the open plan living space and garden were to become the central focus." Jeremy says. "The core idea centred on neutralizing the exterior in a way that fits in with the landscape."
"The dwelling, pushed back from the water's edge, presented challenges," he admits. "However, we were successful at creating an open space that spills out onto the outdoor garden allows for this connection between the building and waterfront."
The result was nothing short of magnificent. Flanked by lush, meticulously landscaped gardens and set against the backdrop of wide water vistas, it's easy to see why this is the owner's favourite feature of their holiday home.
"They entertain a lot and this is a special space for friends and family," Jeremy confirms.

The end result, Jeremy is happy to announce, is a well-loved and used 'home away from home' which came together as a result of many talented visionaries.
"The project was an exploration of craft and nothing less," he enthuses. "Many incredibly capable hands made this project. Our role was primarily to steer our intent, ensuring prototypes and materials mirrored our vision. Every part of the team was focused upon the delivery of the artisan craft - we were surprised at every corner by [the] passion of the team."

Indeed, this lucky family can now indulge in their own European inspired holidays much closer to home, with the picturesque Palm Beach House.
 This inspirational home was featured in Issue 29 of Renovate Magazine.
Renovate Magazine