Undoing the past: Bringing rustic sophistication to a dramatic open-plan home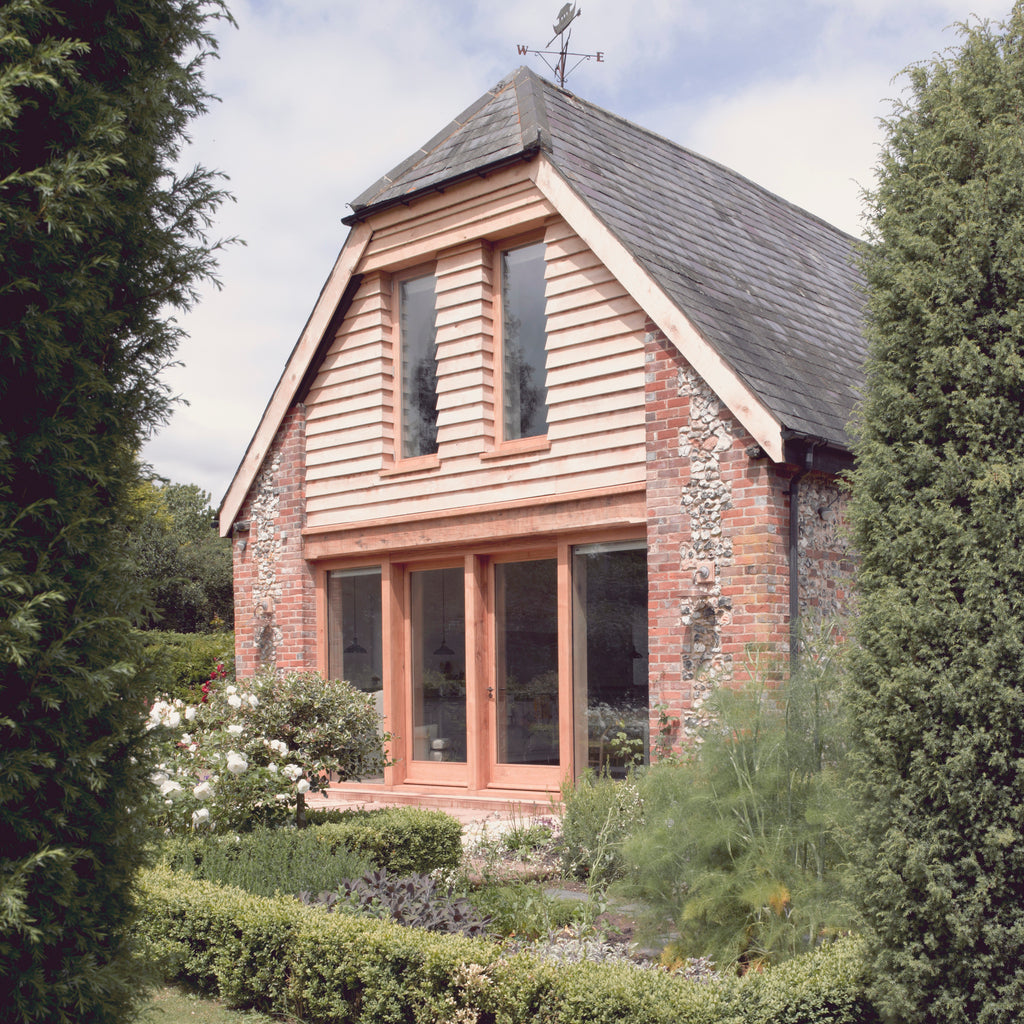 WORDS Karen Lawrence ARCHITECT Luke McLaren
Many house-hunters dream of finding a characterful and spacious old barn to convert into their ideal home. But the new owners of Park Corner Barn faced an unusual challenge; the former threshing barn had already been converted – badly!

The brief was clear: fewer, larger rooms; a dedicated library and music room with space for a large collection of books and vinyl records; and a flexible layout to comfortably accommodate a single occupant or a house full of guests.
Architect Luke McLaren's first task was to strip out the eight cramped bedrooms, crazy-paved conservatory and other unsympathetic additions to reveal the dramatic double-height space and original oak beamed roof.

With its full height and volume now exposed, the long, narrow building lent itself to the creation of a series of flowing, open-plan spaces. Sliding oak doors divide the entrance lobby from the living room, which leads onto an ensuite guest bedroom, utility room and the library/music room. Above, reached by a limestone spiral staircase, is the master bedroom suite.

At the opposite side of the entrance, the spacious kitchen remains connected to the living space, separated only by an L-shaped basalt work surface. Above the kitchen, a further bedroom is reached via a bespoke black steel 'library ladder' – a movable staircase that can be pushed to one side when not in use, leaving an unobstructed circulation space.

Plaster has been selectively stripped from the walls to reveal areas of original brick and flint, bringing texture and character to the interiors. This is teamed with a limited palette of contemporary materials and muted off-whites and greys to create a sense of Scandinavian chic throughout.

In this largely neutral space, one feature was designed to stand out. The focal point of the living room – and heart of the entire barn - is the massive limestone fireplace, topped by a monumental, lime-rendered chimney stack. This large statement feature doesn't feel overbearing in the space, as it is in keeping with the scale of the barn.

What makes Park Corner Barn so successful? Top tips you can take away

If you're looking for a spacious home, a barn conversion – or other ex-agricultural or industrial building - could be the perfect choice. The scale of these buildings is more generous than standard domestic construction, and can be easily repurposed to meet the needs of growing families, collectors or anyone who likes to entertain guests.

To make the most of a larger home conversion, steal a few key ideas from Park Corner Barn:
Work with the original features of the building. If you fell in love with the exposed structure, don't hide it! Park Corner Barn's features had been hidden beneath inappropriate additions; by removing them, the new owner was able to restore the impressive full-height space with its timber structure and roof beams.
Although it's tempting to create lots of extra rooms, don't try to squeeze in too much. Create a clear brief to define the rooms you need and how you'll use them, and ask your architect about creative solutions to permit space to be used flexibly.
Create a focal point that matches the scale of the building. The massive fireplace is not an original feature, but its size and style complement the character of the barn.
Let original materials and textures stand out by using a limited range of cool finishes and colours. The natural, aged character of oak, brick and flint – the original fabric - is allowed to dominate, contrasted against plain off-white walls and pale grey furnishings.
 This inspirational home featured in Issue 28 of Renovate Magazine.
Renovate Magazine