REAL HOME: Inner Ambitions in Auckland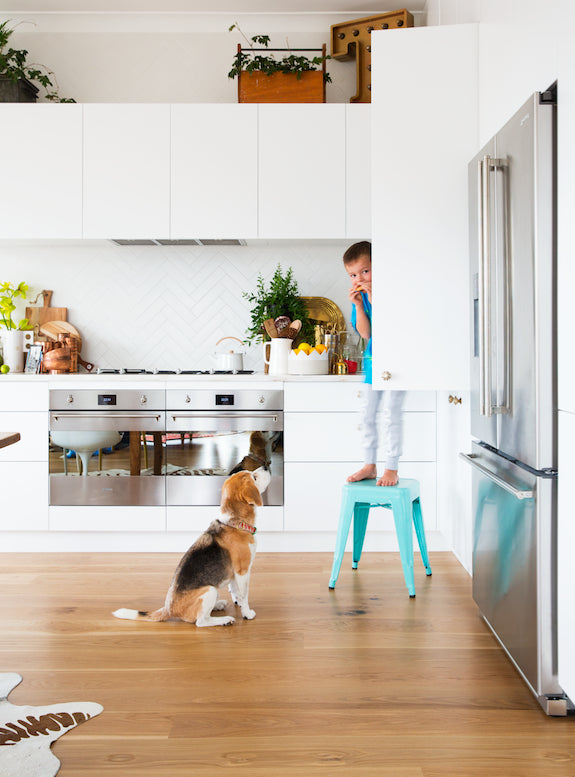 WORDS: Amber Baker
PHOTOGRAPHY: Larnie Nicholson
"We knew from the moment we walked in that it was a good house but not a great house, and that we would continuously make improvements as budget allowed along the way." With a vision to modify the centre of the 1920's era home, LeeAnn Yare and her husband Glen set about optimising the (not so open) open plan space for practical and functional use. In its previous state, the restricting U-shape meant a cramped kitchen, so away it went. "We completely removed the existing kitchen and sold it on the internet. We then installed a new window that was slightly higher than the old one from the floor, so that we could run the kitchen bench the length of the room, and under the window," LeeAnn says.
The family went for a European approach by designing the kitchen around the dining table, taking it from a U-shape to an L-shape, with LeeAnn saying, "it has completely opened up the space and made the entire open plan area feel twice as big."
For LeeAnn, finding appropriate storage in the kitchen was one of her biggest paint points, so this quickly became a priority in the renovation design, saying, "The new kitchen design included a row of handleless cabinets above the bench to hide the extractor and create more functional storage, and the cabinetry on the back wall was taken right to the ceiling, eliminating cabinet tops that just get covered in oily grime, and replacing that vacant space with storage for items that are of occasional use."
"The kitchen is the hub, because it is an integral part of the overall living space and the party is always in the kitchen right?" With an emphasis on creating the idyllic spot for entertaining LeeAnn included double ovens and two single dishwashing drawers at bench height for ease, "meaning no bending down to load and unload."
Alongside the kitchen update, solid oak flooring was laid throughout the living and kitchen areas, replacing a convoluted mix of tiles, beige carpet and original floorboards. "Our solid oak flooring has made the biggest difference to our home. While we loved the original hallway floorboards, they weren't present in the living area (an extension to the original house before we bought it), so we opted to utilise solid oak flooring in the entire living space and extend it down the hallway. It is one of my favourite materials." Finishing touches such as new recessed and pendant lights were installed, the ceiling was plastered and painted, as well the fireplace to blend in with the freshly done walls.
Over the years to come, the rest of the rooms transform along with the family who themselves were growing and transforming. "Colour and pattern is the single biggest transformation tool you have. Several rooms in our home have been transformed that way, so while they haven't had structural changes, they are completely different rooms to what we started out with," LeeAnn says.
Editor Renovate